Recent Blog Comments
---
best electric scooter
said on 03-Oct-2017 14:21 at
EcoYou
said on 28-Sep-2017 08:19 at
Sameer Girme
said on 30-Aug-2017 06:46 at
Bosch associates spark enthusiasm for technology and a start-up culture
More knowledge, more ability, a better future – for more than ten years, this has been the motto of "Wissensfabrik - Unternehmen für Deutschland e.V." (Knowledge Factory: Companies for Germany). The initiative focuses on two areas. The first is education, and the aim here is to get children and young people interested in technology and business. With entrepreneurship, Wissenfabrik's second sphere of activity, the initiative caters to students and up-and-coming entrepreneurs. In order to promote a start-up culture in Germany, Wissensfabrik brings start-ups and established market actors together and provides them with intensive knowledge-sharing opportunities.
As one of the founding members of Wissensfabrik, Bosch is actively involved in a number of projects. The active participation of its associates in these projects is one of the company's priorities. Some 100 associates, among them senior executives, contribute their time as mentors or trainers across Germany each year. There are also 500 apprentices who help spark enthusiasm for science and technology. One example of a successful project is "KiTec – Kinder erleben Technik" (KiTec: Children experience technology), within the framework of which Bosch cooperates with 225 schools and daycare centers. Together with the apprentices, children work on their own technical projects such as homemade insect hotels or treasure chests. In the new "IT2School" project, apprentices introduce schoolchildren to digital learning. At present, Bosch engages in around 300 educational partnerships with daycare centers and schools.
Bosch executives advise start-ups and students
Students and start-ups also benefit from the initiative: thanks to mentoring programs, young entrepreneurs can present their innovative, technology-oriented ideas to experienced executives, who provide feedback and advice to up-and-coming companies. For instance, Franz Fehrenbach, the chairman of the Bosch supervisory board, is active in the Weconomy start-up competition, where he spends a weekend supporting the candidates as an advisor. Until now, 180 start-ups have received valuable mentoring support through the Wissensfabrik.
Since it was founded in 2005, the initiative has cooperated with around 2,500 schools and daycare centers. 700,000 children across Germany have benefited from a range of projects that have enabled them to develop their creativity, their teamwork skills, and their inventiveness. In order to guarantee high-quality programs, the Wissensfabrik cooperates with universities. Moreover, scientists evaluate the pedagogical value of the learning materials and give their stamp of approval before they are used.
More information on the Wissensfabrik can be found here (only in German available).
Robert Bosch Stiftung awards its 2017 Junior Professorship to Dr. Michaela Dippold
New developments at Robert Bosch Stiftung
In the coming years, food scarcity in Africa will continue to worsen as a result of stagnating agricultural yields for crop plants. One solution could be to use the types of high-yield plants that have contributed to increasing agricultural production in industrialized nations in recent years. The drawback of these types of plants is hat they require the best possible conditions, which were only available in high-performing agricultural environments until now.
The work of Dr. Michaela Dippold focuses on remedying this situation. The research associate in the department of crop sciences at Georg-August University in Göttingen is the Robert Bosch Junior Professor 2017. Over the course of her research, she will spend the next five years establishing the adaptation mechanisms of old plant types in Sub-Saharan Africa. Often, these are well adapted to local conditions such as drought and low nutrient intake, but their yield is relatively low. The aim of Dr. Dippold's research is to find out how the water and nutrient intake of crop plants can be improved, also to achieve stable yields in nutrient-poor soils. The results of this work will serve as the basis for a new generation of high-yield plant types.
Since 2008, Robert Bosch Stiftung has awarded the "Sustainable Use of Natural Resources" junior professorship each year. The professorship is endowed with one million euros over a period of five years and serves to build an independent group of researchers at a German university or research institute. These groups serve to strengthen the realm of sustainability science in Germany and solve pressing environmental problems that are of particular relevance in developing or transitioning countries.
More information on the Robert Bosch Junior Professorship can be found here.
Innovations related to the Internet of Things
On March 15 and 16, the STATION event center in Berlin became a meeting point for tech visionaries with Bosch ConnectedWorld2017, the world's biggest conference for the Internet of Things (IoT). Representatives of different industries demonstrated the advantages that digital connectivity has brought forth. Some 2,700 engineers, business experts, and journalists from around the world attended the event this year. More than 130 speakers – among them Bosch CEO Dr. Volkmar Denner – talked about the future of smart products and services. Two topics garnered particular attention: smart cars and efficient services.
Learning vehicles
How can you teach a car to navigate its way through traffic autonomously? In the future, a Bosch onboard computer will provide the answer. Thanks to artificial intelligence (AI), the electronic brain is capable of applying machine learning processes. With the help of special sensors, the digital chauffeur interprets the behavior of other road users, and can thus predict hazardous situations in time. "Automated driving makes road traffic safer," says Volkmar Denner, chairman of the Bosch board of management. "Artificial intelligence is the key to this. The car is getting smart." At the very latest, onboard computers with AI will be ready for series production at the beginning of the next decade.
Sustainable services
According to a market research study, by 2020 there will be 250 million connected vehicles on the world's roads. For more than a quarter of all Germans, in-vehicle Internet access is already an important criterion when it comes to buying a car. "Services for connected cars are increasingly a distinguishing feature in the automotive industry," says Dirk Hoheisel, member of the Bosch board of management. With the Automotive Cloud Suite, Bosch presented a new platform for mobility services. It enables carmakers and service providers to develop a broad range of applications for the connected vehicle and bring these solutions to market. For instance, helpful services include systems that warn of wrong-way drivers or assist in the search for a parking spot. This not only helps make road traffic safe, it also helps reduce CO2 emissions by significantly shortening the search for a parking spot.
More information on Bosch ConnectedWorld can be found here.
This two-minute video provides an overview of the event.
Bosch is developing solutions for connected agriculture
According to a recent study published by the McKinsey Global Institute, the agricultural sector is currently one of the least digitized industries. Many farmers have yet to be convinced of the benefits of digital technology. This may be because available technology is often not adequately user friendly, and services usually cover only a fraction of a farmer's needs. However, Bosch sees a great deal of potential for innovative solutions in agriculture, for instance in the areas of sustainable food production, packaging, and distribution – from the fields to the consumer's plate.
In cooperation with "The Yield", and Australian start-up, the company is showing how connected solutions can improve oyster farming in aquaculture. Sensors monitor the parameters that are critical for the oyster harvest, such as water temperature and salt content. Software records and analyzes data and then sends the results directly to the farmer's smart phone. Based on this analysis, the farmer can determine the best possible moment for the harvest. Since oysters are filters that absorb water contaminants, they cannot be harvested if contaminant levels are too high, and this means that oyster farmers risk generating losses. With their joint project, "The Yield" and Bosch have made it possible to increase the number of harvestable days by as much as 30 percent. In addition to hardware and software, Bosch has also provided the computing center required to collect and record data. As shareholder, the company has thus far invested more than two million euros in "The Yield".
Bosch offers connected solutions in other areas of agriculture as well. For instance, connected wireless sensors help improve the yield of asparagus harvests. Moreover, with intelligent containers, Bosch is contributing to making the transport of goods more agile and efficient in the future. These containers can monitor the two-week sea voyage of bananas, for example.
Connected agriculture is one of the main topics at the Bosch Connected World conference, which is taking place until March 16. More information on the conference program can be found here.
More information on the cooperation between Bosch and "The Yield" can be found on the Bosch ConnectedWorld Blog.
Bosch and EnBW are developing new energy storage systems to stabilize the power grid
The energy turnaround not only means exploiting new sources of power, it also calls for innovative approaches to energy production. In addition to conventional power plants, a growing number of small producers are now appearing on the market. Wind and solar parks, cogeneration units, heat pumps, and biogas plants are now also feeding power into the public grid. Since the amount of energy that those facilities produce often depends on factors that cannot be controlled, such as wind and sunlight, energy storage solutions ensure that the power supply becomes constant and reliable. Bosch is developing such solutions for both energy providers and industrial companies.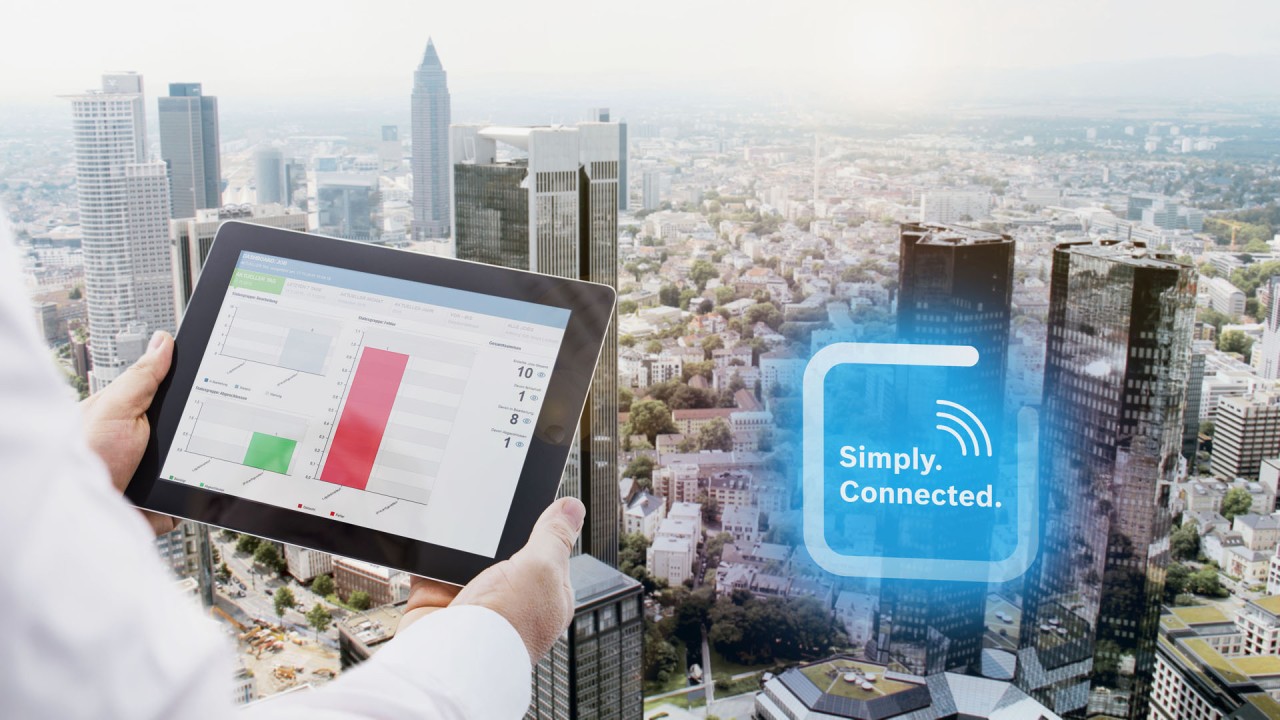 At present, Bosch is driving a promising project forward together with EnBW, a German energy provider: At the EnBW power plant in Heilbronn, the company is planning an energy storage system that will make primary regulation energy available, thus offsetting short-term fluctuations in the grid. "The cooperation with EnBW is another important step toward establishing energy storage systems in the market and thus helping ensure the success of the energy turnaround," says Cordelia Thielitz, the president of Bosch Energy Storage Solutions. Solutions like these not only ensure a reliable power supply, but furthermore contribute to making renewable sources of energy reliable and suitable for widespread use.
The energy storage system comprises 768 lithium-ion battery models and a maximum output of five megawatts with an installed storage capacity of five megawatt hours. The amount of power that the storage system receives and dispenses corresponds to the average consumption of about 400 two-person households. In a first step, the two companies will establish a joint project enterprise that will be in charge of planning, building, connecting, and operating the battery.
More information on the joint project between Bosch and EnBW can be found here (only in German available).