Recent Blog Comments
---
said on 09-Mar-2017 14:51 at
Tom
said on 30-Aug-2016 17:59 at
Scooter
said on 24-Aug-2016 11:05 at
Innovations related to the Internet of Things
On March 15 and 16, the STATION event center in Berlin became a meeting point for tech visionaries with Bosch ConnectedWorld2017, the world's biggest conference for the Internet of Things (IoT). Representatives of different industries demonstrated the advantages that digital connectivity has brought forth. Some 2,700 engineers, business experts, and journalists from around the world attended the event this year. More than 130 speakers – among them Bosch CEO Dr. Volkmar Denner – talked about the future of smart products and services. Two topics garnered particular attention: smart cars and efficient services.
Learning vehicles
How can you teach a car to navigate its way through traffic autonomously? In the future, a Bosch onboard computer will provide the answer. Thanks to artificial intelligence (AI), the electronic brain is capable of applying machine learning processes. With the help of special sensors, the digital chauffeur interprets the behavior of other road users, and can thus predict hazardous situations in time. "Automated driving makes road traffic safer," says Volkmar Denner, chairman of the Bosch board of management. "Artificial intelligence is the key to this. The car is getting smart." At the very latest, onboard computers with AI will be ready for series production at the beginning of the next decade.
Sustainable services
According to a market research study, by 2020 there will be 250 million connected vehicles on the world's roads. For more than a quarter of all Germans, in-vehicle Internet access is already an important criterion when it comes to buying a car. "Services for connected cars are increasingly a distinguishing feature in the automotive industry," says Dirk Hoheisel, member of the Bosch board of management. With the Automotive Cloud Suite, Bosch presented a new platform for mobility services. It enables carmakers and service providers to develop a broad range of applications for the connected vehicle and bring these solutions to market. For instance, helpful services include systems that warn of wrong-way drivers or assist in the search for a parking spot. This not only helps make road traffic safe, it also helps reduce CO2 emissions by significantly shortening the search for a parking spot.
More information on Bosch ConnectedWorld can be found here.
This two-minute video provides an overview of the event.
Bosch is developing solutions for connected agriculture
According to a recent study published by the McKinsey Global Institute, the agricultural sector is currently one of the least digitized industries. Many farmers have yet to be convinced of the benefits of digital technology. This may be because available technology is often not adequately user friendly, and services usually cover only a fraction of a farmer's needs. However, Bosch sees a great deal of potential for innovative solutions in agriculture, for instance in the areas of sustainable food production, packaging, and distribution – from the fields to the consumer's plate.
In cooperation with "The Yield", and Australian start-up, the company is showing how connected solutions can improve oyster farming in aquaculture. Sensors monitor the parameters that are critical for the oyster harvest, such as water temperature and salt content. Software records and analyzes data and then sends the results directly to the farmer's smart phone. Based on this analysis, the farmer can determine the best possible moment for the harvest. Since oysters are filters that absorb water contaminants, they cannot be harvested if contaminant levels are too high, and this means that oyster farmers risk generating losses. With their joint project, "The Yield" and Bosch have made it possible to increase the number of harvestable days by as much as 30 percent. In addition to hardware and software, Bosch has also provided the computing center required to collect and record data. As shareholder, the company has thus far invested more than two million euros in "The Yield".
Bosch offers connected solutions in other areas of agriculture as well. For instance, connected wireless sensors help improve the yield of asparagus harvests. Moreover, with intelligent containers, Bosch is contributing to making the transport of goods more agile and efficient in the future. These containers can monitor the two-week sea voyage of bananas, for example.
Connected agriculture is one of the main topics at the Bosch Connected World conference, which is taking place until March 16. More information on the conference program can be found here.
More information on the cooperation between Bosch and "The Yield" can be found on the Bosch ConnectedWorld Blog.
Bosch and EnBW are developing new energy storage systems to stabilize the power grid
The energy turnaround not only means exploiting new sources of power, it also calls for innovative approaches to energy production. In addition to conventional power plants, a growing number of small producers are now appearing on the market. Wind and solar parks, cogeneration units, heat pumps, and biogas plants are now also feeding power into the public grid. Since the amount of energy that those facilities produce often depends on factors that cannot be controlled, such as wind and sunlight, energy storage solutions ensure that the power supply becomes constant and reliable. Bosch is developing such solutions for both energy providers and industrial companies.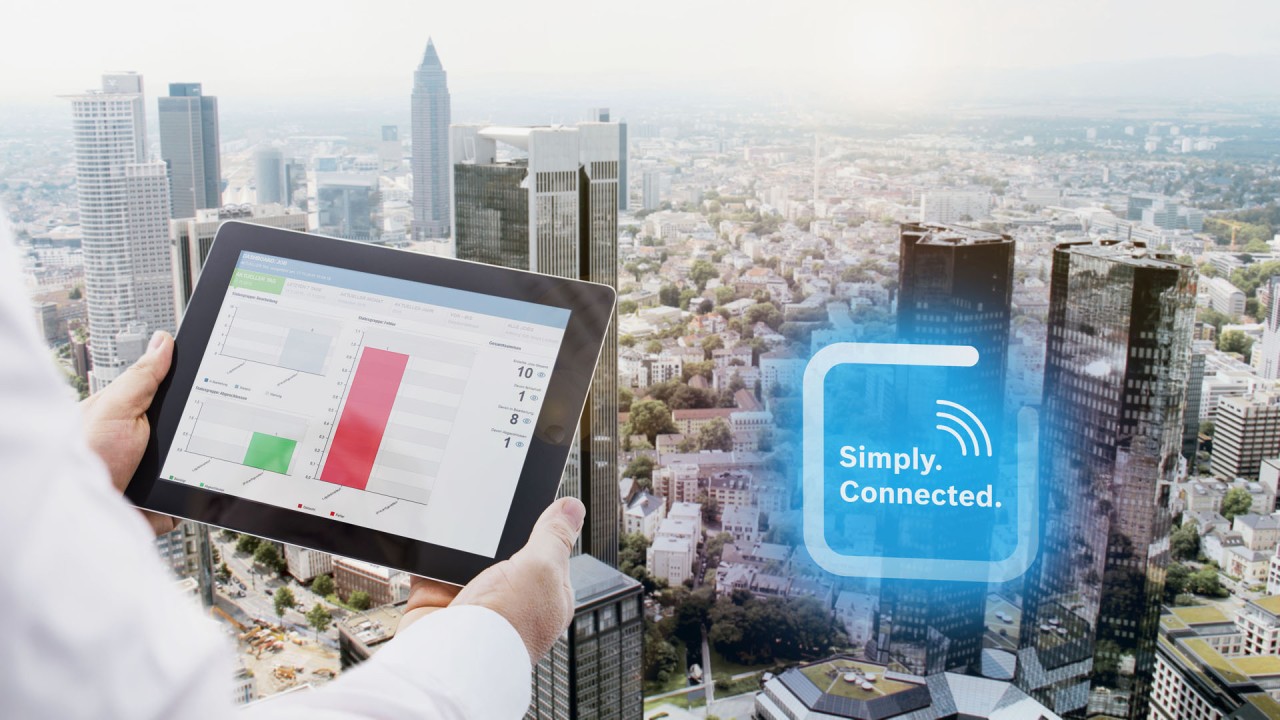 At present, Bosch is driving a promising project forward together with EnBW, a German energy provider: At the EnBW power plant in Heilbronn, the company is planning an energy storage system that will make primary regulation energy available, thus offsetting short-term fluctuations in the grid. "The cooperation with EnBW is another important step toward establishing energy storage systems in the market and thus helping ensure the success of the energy turnaround," says Cordelia Thielitz, the president of Bosch Energy Storage Solutions. Solutions like these not only ensure a reliable power supply, but furthermore contribute to making renewable sources of energy reliable and suitable for widespread use.
The energy storage system comprises 768 lithium-ion battery models and a maximum output of five megawatts with an installed storage capacity of five megawatt hours. The amount of power that the storage system receives and dispenses corresponds to the average consumption of about 400 two-person households. In a first step, the two companies will establish a joint project enterprise that will be in charge of planning, building, connecting, and operating the battery.
More information on the joint project between Bosch and EnBW can be found here (only in German available).
Bosch presents traffic safety solutions
At the Mobile World Congress 2017 in Barcelona, which ended yesterday, Bosch presented smart new solutions for use in the Internet of Things (IoT). Occupying center stage was a concept car with a number of automated driving features. In addition to conveniences such as keyless entry, the automobile offers in particular innovative safety features: if the driver begins to fall asleep, or is considerably distracted, the Driver Drowsiness Detection feature can cause the car to emit a warning signal, and thus prevent a dangerous situation.
The concept car is also the first to offer gesture-controlled operation with haptic feedback. The technology makes use of ultrasound sensors, which allow drivers to feel whether their hand is in the right place. They also give the driver feedback regarding the gesture that has been performed. This, in turn, makes it possible to operate infotainment programs without looking at the controls, and driver can this keep their eyes on the road for much more of the time. In addition, the exterior rear-view mirrors have been replaced by a "Mirror Cam System," which displays the car's surroundings with the help of sensors and display screens. What is really special is that when the car is on the highway, the camera automatically extends the viewing angle farther back behind the car, and when in the city, the viewing angle is as wide as possible, to enhance safety. At night, increased contrast levels enhance the driver's ability to perceive his or her surroundings.
A cloud-based wrong-way-driver warning system
Furthermore, Bosch has developed a cloud-based system that transmits warnings about wrong-way drivers. This system sends information to both the wrong-way driver and to drivers in oncoming vehicles within ten seconds – faster than with a radio-based system. In order to detect a vehicle driving in the wrong direction, the cloud-based feature compares the actual movements of the vehicle with permitted directions as listed in an Internet-based database. The function depends on the regular, anonymous reporting of the vehicle's position to the cloud – a centrally located computing center in which data from the Internet can be stored and analyzed. The more vehicles are in the network, the greater the system's capability for providing comprehensive notification of wrong-way drivers.
On the path toward greater road safety, Bosch is also testing a new solution for providing direct communication between vehicles: In this system, networked cars send information regarding speed, position and lane changes directly to all vehicles within a radius of 320 meters – without any detours whatsoever, and thus, without any delay. The rapid and direct communication between cars serves to optimize the flow of traffic, and is designed to help prevent accidents. The new technology is called LTE-V2X and is currently being tested live in cooperation with Vodafone and Huawei on the test section of the A9 Autobahn near Allershausen, Germany.
More information on the solutions that were presented at the Mobile World Congress can be found here.
More information about intelligent mobile communications and networked vehicles can be found here (only in German available).
Bosch heating trends in 2017
The Bosch heating solutions of the future are digital, combined, and efficient. In 2017, the following three trends are in focus: smart technologies, hybrid heating systems, and low-emission pellet ovens.
Digital is better
Digital heating systems continue to make progress. Adaptive systems can automatically adjust room temperature according to time of day and weather developments. What is more, users can comfortably control their heating systems remotely via a PC, tablet, or smart phone. The application informs them of current energy consumption and gives tips to help save costs – and thus also heat in a more eco-friendly way. And should an error occur, repairmen can quickly intervene: the smart devices can inform technicians directly of a malfunction, thus enabling them to bring along exactly the parts needed for the repair.
Clever combined solutions
The principle of hybrid heating involves the best possible combination of different sources of heat. A mix of several different technologies is feasible: from gas or oil condensation boilers to heating pumps and solar thermal energy or photovoltaic arrays. The idea is that using renewable sources of energy reduces heating costs and makes homeowners more independent of individual sources of energy. What is more, combining efficient components with one another can reduce greenhouse gas emissions by up to 30 percent.
Heating with wood
Modern pellet heating systems enable climate-friendly heat generation. They burn pellets made of sawdust and shavings in an almost carbon-neutral manner and are very efficient. In order to take full advantage of the system's potential, extra buffer storage is recommended. This ensures that the boiler runs at the best possible heating operating point.
More information on current heating trends can be found here (only in German available).
Find out how current heating systems can help save energy with the Bosch renovation calculator (only in German available).